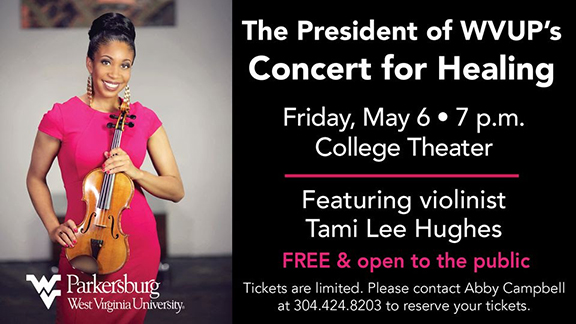 Date/Time
May 6, 2022
7:00 pm - 8:30 pm
WVU Parkersburg President Dr. Chris Gilmer welcomes students, faculty, staff, alumni and the community to his free Concert of Healing. The event will take place in the College Theater on the main campus.
The concert will feature world-class violinist Dr. Tami Lee Hughes, who will present a program of healing developed specifically for WVU Parkersburg to welcome everyone back face-to-face as the COVID-19 pandemic shows signs of abating and to remember the millions lost to this disease.
The event is sponsored by the WVU at Parkersburg Foundation. Tickets are free, but limited. Please contact Abby Campbell at 304-424-8203 to reserve seats.