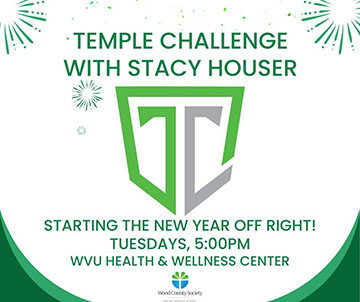 Date/Time
January 17, 2023 - January 24, 2023
5:00 pm - 6:00 pm
Are you looking for modified fitness for all abilities?
Look no further! Wood County Society has the BEST modified
fitness program in the Mid-Ohio Valley!
Wood County Society is kicking off the New Year in high gear!
Wood County Society Temple Challenge will begin on Tuesdays
from 5PM-6PM at the WVU Medicine Health and Wellness Center –
2804 Birch Street, Parkersburg, WV 26101!
Please arrive 10-15 minutes early to complete the registration
and meet our trainer – Stacy Houser! For more information on the
Wood County Society Temple Challenge Program, please contact
Karla Burkman, Program Director, at 304-428-4280 EXT 2 or by
email at karla@woodcountysociety.com