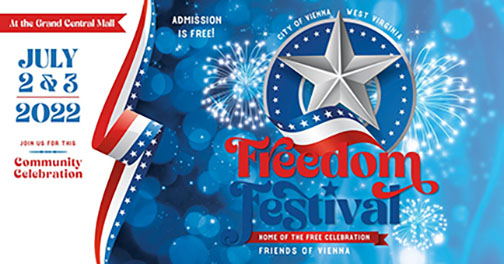 Date/Time
June 30, 2023 - July 1, 2023
12:00 pm - 10:30 pm
Bring the whole family to the Vienna Freedom Festival will be held in
Vienna, West Virginia.  The Freedom Festival will have many events
during the three days including 7 shows, carnival, fireworks, parade,
food and craft vendors and much more. Sunday, we have Vienna's
very first Rodeo.
The following is a schedule of events:
Friday, June 30th
12:00 PM – Festival opens including carnival, food and craft vendors
3:00 PM – Silent Auction at the Friends of Vienna tent
5:00 PM – Opening Ceremonies (main stage)
5:00 PM – Insured Sound (main stage after opening ceremonies)
7:00 PM – Huey Mac from Morgantown, WV (main stage)
8:30 PM – Tusk (Fleetwood Mac tribute band)
10:30 PM – Fireworks (behind the mall)
Saturday, July 1st
10:00 AM – Parade
10:00 AM – Batmobile
11:00 AM – Festival opens
11:00 AM – Car Show
3:00 PM – 249th Army Band (by JCPenney inside the mall)
5:00 PM – Sour Mash String Band (main stage)
7:00 PM – Sarah Allison Turner from Beckley, WV (main stage)
7:00 PM – Hot Air Balloon Rides at Spencer's Landing
8:30 PM – Drake Milligan
Sunday, July 2nd at Spencer's Landing
2:00 PM – Food Vendors open
3:30 PM – Mechanical Bull Ride
6:00 PM – Mutton Busting
7:00 PM – Bull riding and Barrell Racing
Grand Central Mall
100 Grand Central Mall, Vienna, West Virginia
For details go to www.friendsofviennawv.org