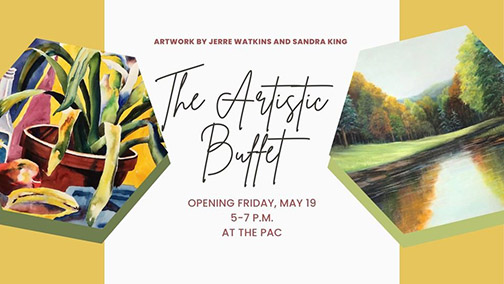 Date/Time
May 19, 2023 - June 10, 2023
10:00 am - 5:00 pm
JERRE WATKINS
A native of Oklahoma, Jerre Watkins has a background in interior design. She entered the field of fine art in 1981, and has studied with many nationally known artists. She completed her MA degree in Fine Arts/Painting at Marshall University in 1995. Her paintings have won numerous awards and hang in many collections in West Virginia and other states.
Her works are usually inspired by nature with a strong emphasis on composition and design. Using her photographs as references, Watkins does a contour drawing of shapes focusing on including and often exaggerating the complex variations nature has to offer. The entire process is aimed at communicating a personal statement of the artist's feeling for the spirit of nature.
SANDRA KING
Sandra's work is always inspired by her immediate surroundings, be it the arrangement of multi-colored roses in her garden, her family farm, the forest, mountains, rivers and streams that surround her West Virginia home. Many of her works reflect a longing to have a simpler life style on the river.
Admission for 2023 is FREE thanks to the support of WVU Medicine Camden Clark
www.parkersburgartcenter.org