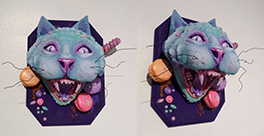 Date/Time
October 15, 2021 - November 13, 2021
10:00 am - 5:00 pm
Opening: Friday, October 15, 5:00-7:00 p.m.
Stop in and enjoy the award winnning artwork by Lavana Lemley,
mixed media sculptor and painter based in Vienna WV.
Her artwork infuses plants and animals into creatures inspired by the strangeness of the natural world. Lavana's sculptures and paintings have been featured in various galleries, newspapers, and blogs.
Her solo show 'Sweet Fangs' will debut over 20 new works featuring oozy candy crusted fanged creatures such as the one pictured here titled, "Zoomies".
For more information visit http://www.parkersburgartcenter.org/