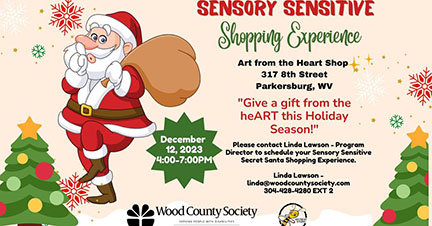 Date/Time
December 12, 2023
4:00 pm - 7:00 pm
Give the gift from the heART this Holiday Season!
Art from the Heart Shop will provide a Sensory Sensitive Secret Santa Shopping
experience for youth. They  will have a personalized shopping experience that is
sensory friendly allowing for them to pick out the perfect gifts for their loved ones!
Please contact Linda Lawson – Program Director to schedule this unique
and artful shopping experience!  (304) 428-4280
For details go to www.woodcountysociety.com
Wood County Society
317 8th Street, Parkersburg, WV