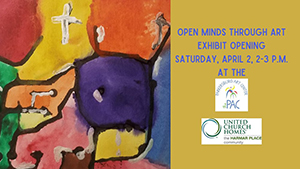 Date/Time
April 2, 2022 - April 16, 2022
10:00 am - 5:00 pm
The Parkersburg Art Center is proud to feature the artwork
from Harmar Place Community residents.
The exhibit will highlight artwork created entirely by residents
through the Opening Minds Through Art Program.
 There is no cost to attend the opening reception.
For more information visit www.parkersburgartcenter.org