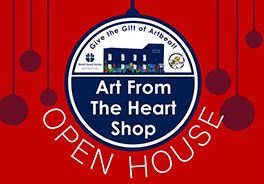 Date/Time
December 21, 2021 - December 23, 2021
9:00 am - 3:00 pm
Celebrate the Holidays with HeARTFul Gifts!
Open House at Art from the Heart Shop
located at 317 8th Street, Parkersburg, WV 26101
Exclusive products to wrap up your Holiday Shopping!
Add some colorful fun and great gifts this holiday season.
For more information visit https://www.woodcountysociety.com/