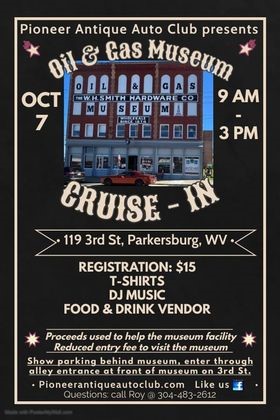 Date/Time
October 7, 2023
9:00 am - 3:00 pm
Pioneer Antique Auto Club presents Oil & Gas Museum Cruise-In
Bring the whole family and stop by the car show for a day of fun, food & music.
Food & drink vendors will be there along with a DJ to provide great entertainment
for all ages.
The proceeds will be used to help maintain the museum facility.
There will be a reduced entry fee to visit the museum.
Show parking behind the museum, enter through alley entrance,
or at front door of museum on 3rd. Street
Registration is $15
For more information go to Pioneerantiqueautoclub.com
Or call Roy at 304.483.2612