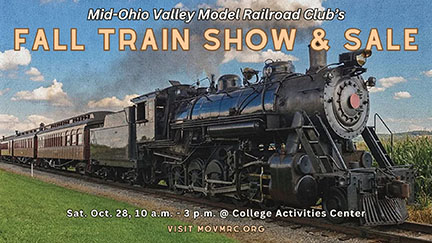 Date/Time
October 28, 2023
10:00 am - 3:00 pm
Interested in Locomotive History?
Check out the Mid-Ohio Valley Model Railroad Club's annual big Fall Train Show
Saturday, Oct. 28, from 10 a.m. to 3 p.m. in the College Activities Center at WVUP!
A large number of vendors from four states will man 100 sales tables with model
railroad locomotives, cars and accessories, both new and vintage, available in all scales.
Vendors will also be selling railroad memorabilia and related items. MOVMRC will
have model train layouts in operation and food concessions will be available.
Admission is $4 with youth under age 12 free. Plenty of free parking. A prize drawing
will be conducted as well. This is a family-oriented event! For further information, check http://www.movmrc.org