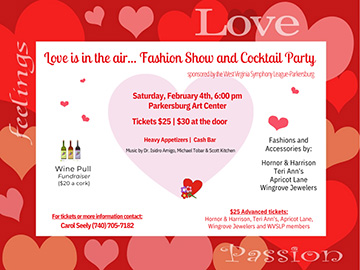 Date/Time
February 4, 2023
6:00 pm - 9:00 pm
Bring a friend and enjoy a night of fashion, great food,
and music by Isidro Amigo, Michael Tobar & Scott Kitchen.
Fashion and accessories by: Horner & Harrison, Teri Ann's,
Apricot Lane and Wingrove Jewelers.
Advance tickets are $25 or $30 at the door.
This event is sponsored by the West Virginia Symphony League – Parkersburg.
For more details call Carol Seely at (740) 705-7182