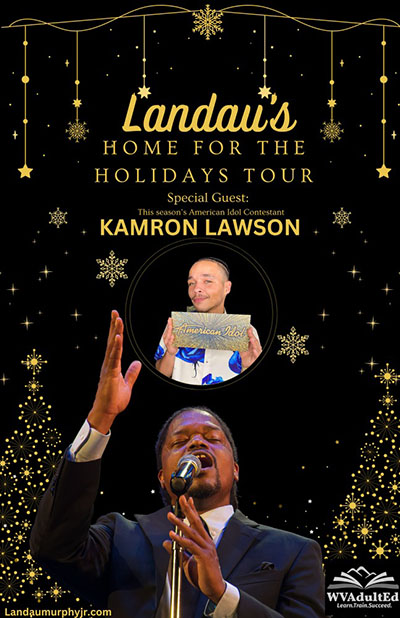 Date/Time
December 14, 2023
7:00 pm - 9:00 pm
"Home For The Holidays"
Logan County, West Virginia native and America's Got Talent Season 6 winner Landau Eugene Murphy will be touring the Mountain State this December for his 12th annual "Home for the Holidays" Christmas tour.
This year, Landau will bring his tour to 12 towns throughout West Virginia, including Parkersburg, performing
a variety of Christmas classics and fan favorites. Bring the whole family for this seasonal classic and enjoy the sounds of  "Home for the Holidays".
Landau's Parkersburg show will benefit the WV Symphony Parkersburg, making it possible for children and youth to attend their concerts free.
Tickets are on sale at wvsop.org. They can be purchased at the door the day of the event.
Performance will be at the Blennerhassett School Auditorium, Thursday, Dec. 14. 7 p.m.
448 Jewell Rd, Parkersburg, WV 26101