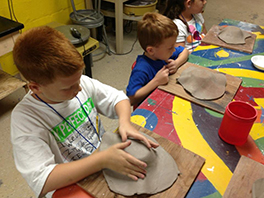 Date/Time
September 28, 2021 - October 19, 2021
4:30 pm - 6:00 pm
Students in grades Kindergarten through 2nd grade will create clay pieces that will be glazed and fired.  Techniques to be explored include pinch pots, slab building and coil building.
Working with clay can help develop patience, improve eye-hand coordination and enhance creativity and imagination! All materials, including clay, glazes, tools and firing are included in the price.
This 4 week series will meet on Tuesdays, September 28-October 19