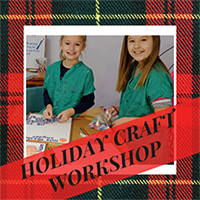 Date/Time
December 3, 2022
10:30 am - 12:00 pm
Let's get crafty for Christmas!
Students can enjoy making some Holiday themed crafts with Miss Hannah.
Kids in grades PreK-3rd can sign up for the 10:30-12 sessions and kids in
grades 4-6 can sign up for 12:30-2 sessions. Two to three crafts will be made
in each session. Perfect for keepsakes or for your child to gift to a loved one
this holiday season.
Session 1: December 3, 10:30-12, grades PreK-3
For more Information visit www.parkersburgartcenter.org