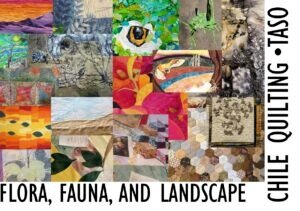 Date/Time
May 9, 2021 - June 6, 2021
10:00 am - 5:00 pm
FLORA, FAUNA, AND LANDSCAPE
Enjoy an amazing exhibit of quilts with color and beauty in every stitch.
Closing Reception: June 6, 1:30 p.m.
Textile artists and teachers from Chile traveled to the United States in August of 2019 to exhibit ten of their art quilts. The trip was sponsored by Bernina Chile to promote a month-long, side gallery exhibit of their work during Quilt National 2019 at The Dairy Barn Arts Center, Athens, Ohio. The same summer, eight textile artists came together at the Dairy Barn to form TASO, Textile Artists of Southeast Ohio.