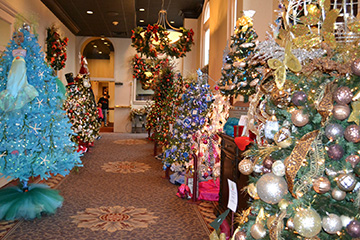 Date/Time
November 14, 2022 - December 7, 2022
All Day
The annual Festival of Trees, hosted by the United Way Alliance of the MOV and The Blennerhassett Hotel, kicks off Monday, Nov. 14 at 6:30 with the official lighting ceremony.
Nothing exemplifies the holidays like dozens upon dozens of aglow Christmas trees lining the halls of our historic hotel. We welcome you to visit during the Festival of Trees and walk through an enchanting winter wonderland.
Take part in the auction to declare the winners of the decorating contests and help raise money to help make the holiday brighter for everyone.
For more details visit www.theblennerhassett.com