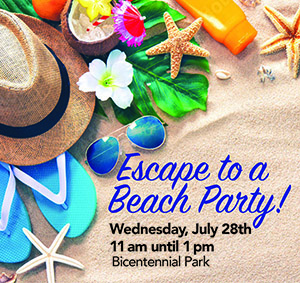 Date/Time
July 28, 2021
11:00 am - 1:00 pm
Escape to a beach party!
Wed. July 28th at Bicentennial Park from 11 am – 1:00pm
Join us for fun, food art, & beach music.
Food Vendors include:
Blue Rose Coffee, The Crystal Cafe and American Kettle Korn
Sponsored by:
Arts Of The Mid-Ohio Valley, ARTSBRIDGE
Actors Guild of Parkersburg, Parkersburg Art Center, Wood County Society
and West Virginia University Parkersburg.