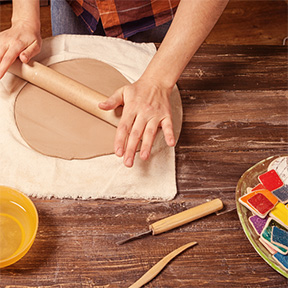 Date/Time
April 27, 2023
6:00 pm - 8:00 pm
Create your own windchimes!
Join Judy Keith and make wind chimes using red clay, stamping
and texture tools.  You choose the design of your chimes, leaves, feathers,
hearts, etc.  These will be kiln fired and ready for pick-up along with wind
chime assembly materials and instructions in a couple of weeks. These
chimes make such a beautiful sound!   This class is open to anyone
ages 12 through adult. This is a great introduction to pottery!
For details go to www.parkersburgartcenter.org