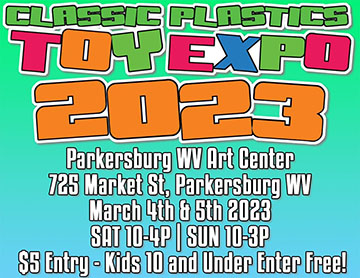 Date/Time
March 4, 2023 - March 5, 2023
10:00 am - 4:00 pm
Classic Plastics Toy Store is back!
Enjoy another year at the Parkersburg Art Center and are bringing it back to a two day event! You can browse through comic books, action figures, table top games, Anime/Manga, Cosplay, Hot Wheels, Gaming, and so much more!
Our current guest for this year is Boglins creator and toy designer, Timothy Clarke!
Entry is $5 and kids 10 and under are free!
As always, this is a for charity event with half of all proceeds being donated directly to the Parkersburg Art Center to help fund all of the amazing local projects and classes.
More information on their Facebook page at Classic Plastic Toy Expo.