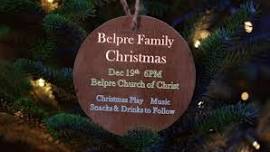 Date/Time
December 19, 2021
6:00 pm - 7:00 pm
You are invited to Belpre Family Christmas!
Join us for sing-a-long Christmas songs, special music, a cute kid's and adult play,
and more! Stick around afterwards for snacks and desserts provided by the church.
All are welcome! If you plan to attend please mark "Going" on this event
page to help us prepare for snacks! Look forward to enjoying a special evening with you!
The Belpre Church of Christ
2932 Washington Blvd,
Belpre, OH 45714
For more information call (740) 423-7021