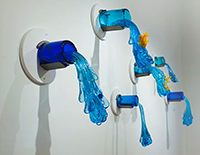 Date/Time
April 1, 2022 - June 30, 2022
10:00 am - 5:00 pm
Don't miss the unique and colorful artwork of Barrie Kaufman.
She is an award-winning, international artist from West Virginia working in print media, painting, glass and ceramics. She has been creating art for thirty-five years, making personal statements about the environment and social consciousness. Her background as an art therapist and art educator has informed her work.
For more information visit www.parkersburgartcenter.org