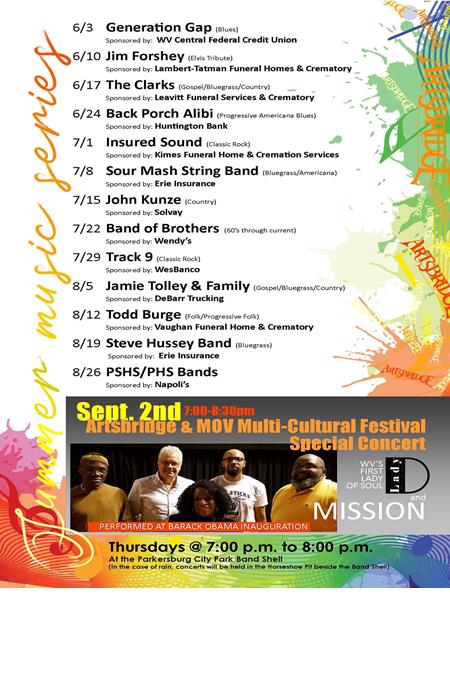 Date/Time
June 3, 2021 - September 2, 2021
7:00 pm - 8:00 pm
Artsbridge Summer Music Series at the City Park begins June 3 and ends Sept 2. The free concerts will be held at the Parkersburg City Park in the bandshell. In the event of rain, the concerts will be moved to the horseshoe pit beside the bandshell.  Concerts are every Thursday from 7:00 to 8:00 pm.
This year there will be a special Free concert on Sept 2, "WV's First Lady of Soul, Lady D" and "Mission". They have performed at the Barack Obama Inauguration and we are honored to have them perform for us. The concert starts at 7:00 and ends 8:30. It is being hosted by MOV Multi-Cultural Festival and Artsbridge.
Below is the complete concert lineup.
6/3     Generation Gap (Blues)
Sponsored by:  WV Central Federal Credit Union
6/10   Jim Forshey (Elvis Tribute)
Sponsored by: Lambert-Tatman Funeral Homes & Crematory
6/17 The Clarks (Gospel/Bluegrass/Country)
Sponsored by: Leavitt Funeral Services & Crematory
6/24 Back Porch Alibi (Progressive Americana Blues)
Sponsored by: Huntington Bank
7/1 Insured Sound (Classic Rock)
Sponsored by: Kimes Funeral Home & Cremation Services
7/8 Sour Mash String Band (Bluegrass/Americana)
Sponsored by: Erie Insurance
7/15 John Kunze (Country)
Sponsored by: Solvay
7/22 Band of Brothers (60's through current)
Sponsored by: Wendy's
7/29 Track 9 (Classic Rock)
Sponsored by: WesBanco
8/5 Jamie Tolley & Family (Gospel/Bluegrass/Country)
Sponsored by: DeBarr Trucking
8/12 Todd Burge (Folk/Progressive Folk)
Sponsored by: Vaughan Funeral Home & Crematory
8/19 Steve Hussey Band (Bluegrass)
Sponsored by:  Erie Insurance
8/26 PSHS/PHS Bands
Sponsored by: Napoli's
Sept 2 Special Concert
9/2-7:00-8:30pm Lady D and Mission
Hosted by Artsbridge and MOV Multi-Cultural Festival