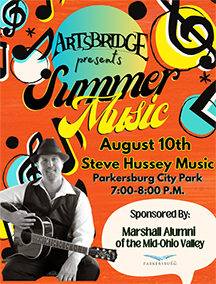 Date/Time
August 10, 2023
7:00 pm - 8:00 pm
A fantastic night of live music!
Steve Hussey bought a Yamaha FG acoustic guitar and an Eagles book of chords when he was 19. The rest, as they say, is history. He has released four albums on his own label, Merf Records, over the years– two with his eponymous band the Steve Hussey Band, and one EP with his rock alter ego LuvBox. Steve recently released an album he did in 1998 with high school buddy Bret Carr. That group, Stuck on Amber, is currently producing another album whose release date has yet to be determined. Currently Steve is working on an acoustic album with bluegrass prodigy Jake Eddy to be released in the Spring of 2016. A full studio LP, tentatively to be self-titled, is being produced by Gary Sadker at Red Ridge Entertainment in Nashville, TN.
Artsbridge is proud to partner with Marshall Alumni Group, our sponsor for this week's concert!Concert will be held in the City Park Band Shell.  In case of rain the show will be held in the horseshoe pit, beside the band shell.
For details go to www.artsbridgeonline.org
1920 Park Avenue
Parkersburg, WV 26101