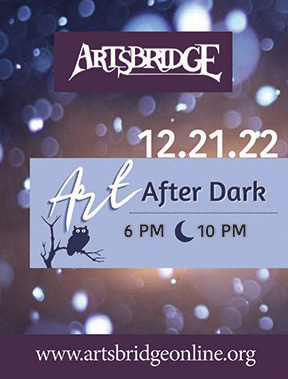 Date/Time
December 21, 2022
6:00 pm - 10:00 pm

What Is Art After Dark?
"Art After Dark" is a celebration of the
winter solstice and the longest night of the year.
The purpose of this event is to bring people together to facilitate
the conversation of healing through the depression and anxiety
that can be felt this time of year.
Art is proven to be therapeutic and calming to the mind and soul!
Please invite your friends so we can breathe deep
and be grateful for a new upcoming year together.
For more info go to www.artsbridgeonline.org
Artsbridge
925 Market Street
Parkersburg WV 26102