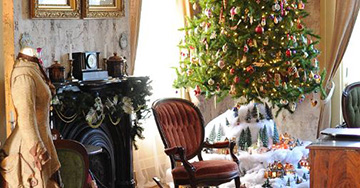 Date/Time
December 2, 2023
5:00 pm - 7:00 pm
Every room will be dressed up for the holiday
in Victorian and other important family periods!
This year we are adding Pohick, our heritage crafts barn, to the tours.
We'll be serving Wassel and other refreshments while enjoying the
music of the holidays. This year we are asking our guests to select the
time they prefer to visit. Reservations are limited to 50 per hour,
giving guests time to enjoy the experience up close in each room.
Tickets: $25 for adults, $15 for children, on sale at Henderson Hall.
Make your reservation at one of our special tour times, 5 p.m., 6 p.m. or 7 p.m.
Call to reserve your time slot. 304-375-2129.